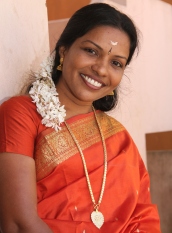 Dear Noble comrades & populace of the world,
My sincere and heartfelt greetings to you all. May peace and happiness shall bestow upon us with the grace of god to the entire humankind.
Buddha said "Thousands of candles can be lit from a single candle, and the life of the candle will not be shortened. Happiness never decreases by being shared."
It is always my vision of dedicating my entire life for the welfare of poor people of my country and I have always felt the pain and distress that our downtrodden people undergo from poverty particularly the women and children, who are unable to go to school and receive proper medical treatment. I am blessed that the Almighty had prompted me and provided an opportunity to serve my people when we formed Rajeesh Trust in the year 2013.
Rajeesh Trust is a non-profitable service motive organization which aims to work for promoting common human values of brotherhood, equality, peace and justice by rendering voluminous service to the society and our nation at large. With the wants of 21st century, the purpose of education is undergoing a drastic shift. The notion of what education stands for is changing for the better. From the industrial age that required standardized education, we are now entering a knowledge age where education is the only tool to solve life's curious questions. As the questions of our future are going to be challenging and their solutions are going to be absorbing there is no better way to prepare our child for the unforeseen future than to provide them with a profound and global education.
With this sole aim in mind and wanting to be proud of having been a part of shaping our future, Rajeesh trust aims to identify the underprivileged Children especially girl child by providing the necessary basic amenities to excel among the privileged ones.I firmly believe that the women's movement and a wide-spread network of Rajeesh Trust which have strong grass-roots presence and deep insight into women's concerns have top significantly contribute in inspiring initiatives for the empowerment of women. Many programmes have been designed exclusively for women through our Trust.
We are thus at the doorstep of a new challenge and opportunity with a pledge of making our Rajeesh Trust a centre of excellence towards Societal service which would invest in the child's future by nurturing the creative young minds in a stress free and caring environment and guiding them through their first and crucial steps in what we hope to be a happy and fulfilling life.
Last but not the least, it quite evident that the Old age home is increasing day by day signifies a degradation in society as it implies that the modern generation has lost love and affection for their parents. They consider them as a burden and shove them into old age homes. Rajeesh trust identifies the deserted parents by rendering a helping hand and appeases them to lead a fairly comfortable life.
In order to accomplish the exemplary services of Rajeesh Trust, we earnestly entreat donors and volunteers to come forward and help the poor and downtrodden masses by rendering selfless service through our noble organization. Jai Hind !!
- Mallai Thamizhachi