Chairperson - Mrs.L.SUBATHRA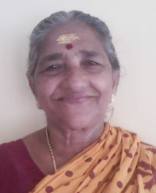 Mrs. L. Subathra was born in Tiruvananthapuram, Kerala in the fifth filial rank out of ten siblings in her renowned and affluent family. She married at very early age and begotten three noble children and settled in Chennai. She struggled from the very early age of her nuptial life to up bring her children by engaging herself in down toward work as a labor in multifarious field.
Mrs. Mallai Thamizhachi, the President & Managing Trustee of Rajeesh Trust was educated with the help of a revered father of a Church and all the education expenditure was borne by the revered father himself due to poor economic background of the Chairperson. The helping nature of the revered father induced the Chairperson and made her premeditated to render social service for the society and nation.
The sudden demise of her grandson Shri.Rajeesh (S/o of Mrs. Mallai Thamizhachi) had made her to begin a Trust under his name as "Rajeesh Trust" in the year 2013. The ultimate aim of the Chairperson is to upbring the needy and poor through the Trust.
Mrs.Mallai Thamizhachi D/o Mrs.L.Subathra takes care of the entire trust as President cum Managing Trustee to accomplish the vision of the Founder and Chairperson Mrs. L. Subathra by carrying out various noble activities though Rajeesh Trust. .