President - Mrs. Mallai Thamizhachi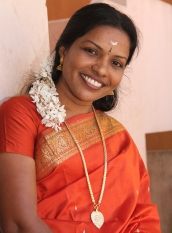 Prof. Ms. S. Geethakumari @ Mallai Tamizhachi – A versatile personality from Chengalpattu, Tamil Nadu is the author of so many literary works in the form of books and collection of lyrics, which adorn Tamil Literature.
Her dedication towards Tamil Literature can make anyone feel spell-bound, which made her publish so many books, lyrics and short stories continuously. After finishing M.A., M. Com, B.Ed., She pursued her education through M. Phil and now continuing to do Ph.D. On 8th March - 2013, to commemorate women's day, she launched women's development association (WDA) and a forum named "Penne Nee" at Chengalpattu, which is primarily acting as a rising movement exclusively for women addressing women's liberation so as to ameliorate women's life in Tamil Nadu. She is also member of professional organizations like Lions' Club, wherein she is the president for Chennai Alamelmanga Chapter 324A8, Professor & Dean (Public Relations), Trust Member & Life Member of National Foundation for Entrepreneurship Development (NFED), Coimbatore.
Having nearly 15 years of experience as a pedagogue at Government Girls' Higher Secondary School, Chengalpattu, she is standing a precedent for others in the vicinity of professional walks of life. She was born in Kerala on 1st January 1973. It is to be noted that until 3.5 years of age, she enjoyed the Literature of Malayalam and later started to breathe a reality and purity of Tamil Literature. Respecting venerably both the languages as the vision of both the eyes, she is working very hard incessantly to elicit her aspiring talent.
She educated so many students below poverty line to enlighten their lives and facilitated their livelihoods through her social services. She extended her benevolent mind to various sectors of the public in the district through Junior Red Cross, Scouts and Guides, Indo Russian Cultural Co-operation and Friendship, Buddha's Light International Association and other voluntary services. Her commendation at various occasions, (Government and private) Anniversaries, and conferences made others feel horripilating. Her biography has been published in numerous magazines and dailies, viz., in "Dhinathanthi" Kudambamalar dated on 16th June 2013 (Sunday Issue). She is currently the Zonal Officer for Junior Red Cross, Chengalpattu.
She has participated in various service camps nationwide. Her numerous services was hononured by Government and private movements, eminent personalities and even dignitaries abroad like Taiwan Buddhism Foundation. She is the Best Teacher Awardee from the State Government of Tamil Nadu. The award received from Indo-Russian cultural Association, Chennai, Bharathiyar Welfare Association, Maduranthagam., Thiruvalluvar Welfare Association, Chennai and other prestigious movements, which added feathers to the cap in her professional career.
She is a social activist and social reformer. This has been a proven fact through one of her revered in raising a Trust named Rajeesh Trust in 2013, which is into socio-economic & health development activities. For instance, it has focused on Women Development and Tribal Development activities in terms of rehabilitating the downtrodden, poor, unemployed youths, orphans and destitute women by empowering them with free basic education, payment of fees to poor children, training (tailoring) and issuance of sewing machines fostering income generation and self-employment of women. It also conducted numerous health camps and eye camps focusing on primary health of children, women and old aged people at rural and tribal areas.
She is the recipient of Life Time Achievement Award from the renowned National Foundation for Entrepreneurship Development (NFED) on 5th September 2013 and nominated as the Chief Guest for receiving the Best Women Educator Award for her significant contribution to Tamil Literature and Women Empowerment from NFED on 8th March 2014.
She is leading her nuptial life peacefully for the past two decades. She has three illustrious wards taking the patronage of her parents, she is standing as the one of the exemplary personality and as a pioneer domestic artiste!
| | |
| --- | --- |
| இயற்பெயர் | திருமதி. சு. கீதாகுமாரி |
| புனைப்பெயர் | மல்லை தமிழச்சி |
| கல்வித் தகுதி | எம்.ஏ.,எம்.காம்.,பி.எட்.,எம்.பில்., |
| பணி | ஆசிரியை |
| பணியிடம் | அரசு மகளிர் மேல் நிலைப்பள்ளி, செங்கற்பட்டு. |
இதுவரை வெளிவந்த நூல்கள் :
1. "சிற்பியின் கவிதை மாமல்லபுரம்"
- மாமல்லபுர வரலாறு கவிதையில்
2. "விழியில் நனையும் உயிர்"
- புதுக்கவிதை
3. "ஒன்பதாம் திசை"
- சிறுகதைகள்.
4. "விடியலே விழித்தெழு"
- மொழிபெயர்ப்பு நூல்.
வெளிவரவிருக்கும் நூல்கள் :
1. "பௌர்ணமி பெண்" - கட்டுரைகள்
2. "வாழும் நேயம்" - மொழிபெயர்ப்பு
3. "தலைப்பில்லை" - புதுக்கவிதை
இதுவரை பங்கேற்றுள்ள நிகழ்வுகள் :
1. கலைஞரின் "தாய்காவியம்" நூலுக்கு "ரஷ்ய விருது" வழங்கு; விழாவில் "நிகழ்ச்சித் தொகுப்பாளராக".
2. எழுத்தாளர் த. ஜெயகாந்தனின் "பத்ம பூஷன்" விருது பாராட்டு விழாவில் "நிகழ்ச்சித் தொகுப்பாளராக.
3. சீர்காழி சிவ சிதம்பரம் - "கலை இலக்கிய துவக்க விழா" நிகழ்ச்சித் தொகுப்பாளராக.
4. பதிப்பக விருது பெற்ற
யூ.எஸ்.எஸ்.ஆர்.
நடராசனின் "மணிவிழா" நிகழ்ச்சித் தொகுப்பாளராக.
5. கவியரங்கம்
6. கருத்தரங்கம்
7. பட்டிமன்றம்
8. வழக்காடு மன்றம்
"இதுவரை பங்கேற்றுள்ள தொலைக்காட்சிகள்":
1.பொதிகை
2. மக்கள்
3. வின் டி.வி.
4. தமிழன்
5. ஜெயா டி.வி
6. கலைஞர் டி.வி
பெற்றுள்ள விருதுகள் :
| | | |
| --- | --- | --- |
| 01. | செந்தமிழ்செல்வி" | இந்திய கலாசார நட்புறவுக்கழகம் - சென்னை |
| 02. | "கவித்தென்றல்" | பாரதியார் நற்பணி மன்றம் - மதுராந்தகம் |
| 03. | "சிந்தனைச்சிற்பி" | திருவள்ளுவர் நற்பணி மன்றம் - சென்னை |
| 04. | "நல்லாசிரியர் விருது" | காஞ்சிபுரம் மாவட்டம் - 2010 |
| 05. | "நல்லாசான் விருது" | சாம் அமைப்பு - மாமண்டூர் |
| 06. | "சங்கமித்திரை" | தமிழக பவுத்த சங்கம் - சென்னை |
| 07. | "அயோத்திதாசர் விருது" | அயோத்திதாசர் அறிவியல் பேரவை - வாலாஜாபாத் |
| 08. | "அம்பேத்கர் விருது" | அம்பேத்கர் இளைஞர் நற்பணி மன்றம் சோத்துப்பாக்கம். |
| 09. | "புத்தர் ஒளி பன்னாட்டு பேரவை விருது" | தைவான். |
| 10. | "வாழ்நாள் சாதனையாள்ர் விருது – 2013" | "தேசிய தொழில் முனைவோர் வளர்ச்சி நிறுவனம், கோவை. |
| 11. | "சிறந்த மண்டல அலுவலர் விருது" | ஜூனியர் ரெட்கிராஸ், செய்யார். |
| 12. | " நல்லாசிரியர் விருது" | அரிமா சங்கம் 324அ4, சோளிங்கர் |
பெண்ணே நீ . . .
மகளிர் அமைப்பு மற்றும் ரஜீஷ் அறக்கட்டளையின் மூலமாகபெண்கள் மாணவர்கள், முதியோர்கள் போன்றவர்களுக்காக கல்வி, மருத்துவம், இலவச நிதியுதவி திட்டங்கள் வழங்கப்பட்டு வருகிறது.